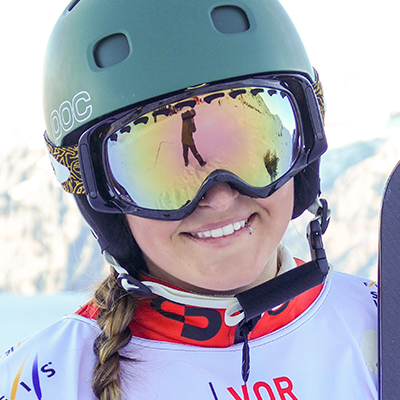 Tess Critchlow
Tess started snowboarding when she was just two years old and it has been a huge part of her life ever since. Tess started out simple with a small hill in the back of their yard, then slowly progressed to bigger hills. Her very first competition was in March of 2001 when she was six. It was the Neil Edgeworth Banked Slalom held at Big White Ski Resort. The following years Tess continued to race and enter the majority of competitions that were held at Big White.
Tess has been back to back Canadian National Junior Champion at Big White, along with 13 Nor-Am Cup Podiums from 2012-2014.
She captured bronze with teammate Carle Brenneman at the Veysonnaz Team SBX World Cup in 2017, and has enjoyed several top ten performances from 2015-2017.
In the Summer Tess likes to spend her off-season with family and friends as much as possible, she enjoys biking, wakeboarding, longboarding and hanging at the beach.