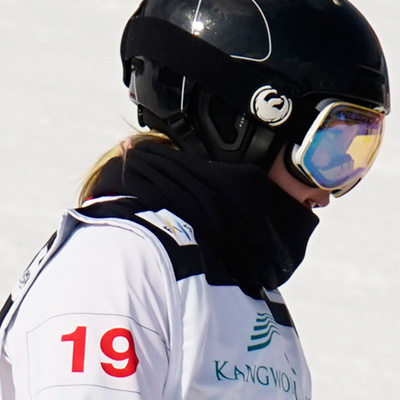 Meryeta O'Dine
The threat of having to wear a spandex suit, and a nudge from her big brother, convinced a 7 year old Meryeta O'Dine to switch from alpine skiing to snowboarding. A NorAM title holder, a Canada Winter Games champion and even a World Cup bronze medalist at the age of 20, it's a decision that has been paying off ever since.
Having captured gold at the Canada Winter Games at her home mountain of Mount Tabor in 2015 (Did we mention they named a run after her?), the Prince George native was officially added to the senior national team in 2016-2017. Racing in one of her first World Cup starts, O'Dine stunned the field and captured bronze at the 2017 Feldberg World Cup, becoming the only individual female snowboardcross medalist this past season.
Fuelled on her father's self described « slop » (a mixture of moose meat, macaroni noodles and tomato sauce) the 20 year old is now primed for a career year on her second full season on the national team with her ultimate goal still within her reach – competing for Canada at the PyeongChang 2018 Winter Olympic Games.