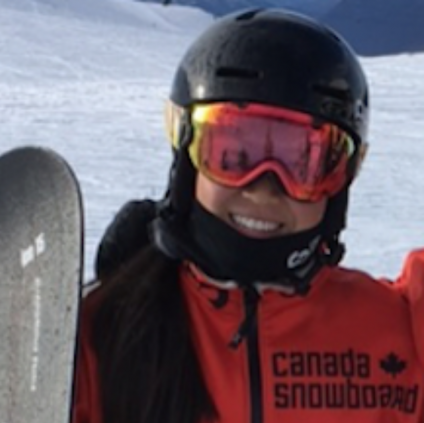 Audrey Shieh
Audrey first began riding at age 6 in Georgetown, Ontario. By age 11 she entered her first competition and quickly realized that her agility and athleticism gave her an advantage over other riders.
Working closely with and learning from friends like Lysa Racine, Alex White and Colby Graham, Audrey has flourished as a competitive rider, finishing in fourth place at the 2017 National Junior Championship. Heading in the 2018 season, she has her eyes set firmly on the top of the Junior podium, with ambitions to compete at NorAms and World Cup events.
"To succeed you have to work hard, make sacrifices, and be constantly pushing yourself forward," said Shieh, "but you also have to make sure you're having fun doing what you love and that you're happy. Everyone has the potential to be successful!"
Away from the slopes, Shieh tries to live an active and adventurous lifestyle, including rock climbing, skateboarding, running, and hiking, with more reflective pursuits like painting and canoeing thrown in. As an artistic spirit, it comes as no surprise that The Art of Flight is her favorite snowboard movie.
"The opportunity to travel, see the world, gain experiences and memories that will last a lifetime are what I hope to gain through snowboarding," said Shieh." Learning and growing personally as an athlete and person are important to me too. It's hard to say what I'll do after snowboarding, but hopefully it will be something where I can continue to travel and experience how diverse and complex the world is."
Audrey is supported by Conscious Adventurist.